Made to your exact specifications.
Coyle Lumber & Millwork is a job shop. We manufacture custom wood products and components for all sorts of industrial needs.

We offer:
■ INDUSTRIAL PACKAGING
Custom skids, boxes & crates built to your specifications.
■ WOOD COMPONENTS
Surveyor & construction stakes, blocks, wedges, bracing
manufactured to suit.
■ LUMBER & MILLWORK
Construction & cabinet grade lumber, rough & surfaced,
platforms, stairs, walkways, railings, built-ins, etc.
■ PROTOTYPE DEVELOPMENT
■ SHORT MANUFACTURING RUNS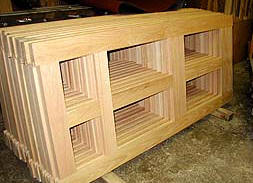 See our Map for finding us.



Made to order.
We will match original profiles.

Lumber