While all of our mouldings are custom run to order, we have hundreds of knives available to create a wide variety of profiles. Or, we can create a profile especially for you. We will soon have a selection of profiles that we have run in the past presented on this page for your review, but until then, if it can be drawn; we will be happy to quote it. Our specialties are colonial and traditional style residential trim and picture frame moldings. Please call or email with any questions and to request a copy of our Portfolio of Wood Mouldings & Trim.
__________________________________________________________

ON-LINE PORTFOLIO OF WOOD MOULDING

Click on moulding types below to see a partial listing of the many moulding profiles that we provide. All mouldings are milled to your specification according to your order.
NOTE: This section is under construction so only the mouldings that are underlined are operative. Thank you for your patience.
Window Sash Sticking
Raised Panel profiles
Base Cap
Crown Moulding
Cove Moulding
Scotia Moulding
Back Bands
Batten & Mullions
Picture or Plate Rail
Hand Rail
Plywood Cap Rail
Shingle & Panel Moulding
Panel Moulding
Drip Cap
Glass Bead

Door Sticking
Base Moulding
Base Shoe
Bed Moulding
Special Caps, Cornice, or Ogee
Casing
Stop Moulding
Chair Rail
Porch Rail
Bar Rail
Brick Moulding
Screen Moulding
Astragal, T & Flat Moulding
Window Stool

_______________________________________________________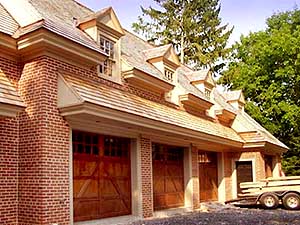 For this new carriage house we provided all of the
exterior cornice moulding as well as the custom
windows.